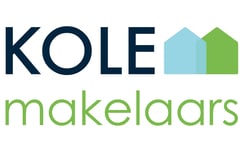 Kole Makelaars
Samen succesvol!
About us
Kole Makelaars van oudsher dé makelaardij van Heerde en omgeving

Oprichter van het makelaarskantoor was Roelof Riphagen. Bij veel mensen een begrip in Heerde. In 1973 startte hij met het makelaarskantoor aan de Zwolseweg. In 1999 heeft Willie Companjen het kantoor overgenomen, werd de naam Companjen en Riphagen en vestigde het kantoor zich aan de Dorpsstraat. In 2014 nam Isaac Kole het stokje over en werd er verhuisd naar de Eperweg. In 2018 is de naam veranderd in Kole Makelaars. Vertrouwde gezichten, een andere naam.
Als dorpsmakelaar weten we wat er gaande is. We weten welke mensen er op 'de markt' zijn. Welke prijsontwikkelingen er zijn. We weten op welke locaties gebouwd mag worden. We weten wat er in de politiek speelt. In een gemeente zoals Heerde kun je je niet specialiseren op één gebied. Je moet overal wat van weten. Dat kost tijd en energie, maar dat geeft ook voldoening.
We hebben een specialisatie in huis wat betreft nieuwbouw. Omdat het belangrijk is voor de gemeente om daarin te kunnen adviseren. Dat doen we niet zomaar, maar onderbouwd met cijfers en achtergronden. En om die cijfers uit te kunnen leggen, moet je verstand van zaken hebben. We willen de gemeente Heerde steeds een beetje mooier maken. We willen de juiste woningen op de juiste plek. En als het om bestaande bouw gaat, de juiste persoon in de juiste woning. Niet omdat we daar zelf beter van worden. Maar omdat het belangrijk is dat een koper op de juiste plek gaat wonen. We zeggen ook eerlijk als een woning niet de juiste woning is. Of wanneer het niet verstandig is om te verkopen. Tevreden klanten, dat is belangrijk.
Jij wilt jouw woning verkopen? Wij weten precies wat jouw huidige woning waard is. De koop of verkoop van een woning is één van de belangrijkste beslissingen in jouw leven. Ons team staat jou bij met deskundig advies. Objectief advies op basis waarvan jij de juiste keuze maakt. NVM-lid Kole makelaars onderscheidt zich met een sterk persoonlijke begeleiding. En: we doen wat we beloven.
• Meer dan veertig jaar ervaring in de lokale woningmarkt
• Concurrerende tarieven
• De meeste klanten door mond-tot-mond reclame
• Persoonlijke benadering
• Betrouwbaar: We doen wat we beloven
• NVM-lid
What we do
Dienstverlening

Aankoop, Verkoop, Taxaties, persoonlijk and onafhankelijk

Soort aanbod

Verkoop, aankoop en taxaties

Doelgroep

Starters, Gezinnen, Alleenstaanden and Senioren

Soort aabod

Bestaande bouw, nieuwbouw, Appartementen, eengezinswoningen en kavels, Nieuwbouw and Bestaande bouw

Website

Woningen, Appartementen, Nieuwbouw, Vrijstaande woningen and recreatiewoningen

Webiste

Www.kolemakelaars.nl

Specialisme

NWWI, VastgoedCert, NVM, NVM Makelaars and NRVT

Specialisaties

Nieuwbouwspecialist, Nieuwbouw, Nieuwbouwwoningen, Projectadvies and Projectadvisering Nieuwbouw
Reviews
Wij zijn Zeer tevreden , altijd vriendelijke mensen op kantoor bij vragen. Echt een makelaarskantoor die klaar staat voor de klant , mochten we ooit ...
9.1
Sale
In the past 2 years, 61 clients wrote a review about this agent:
9.2

Knowledge of the local market

9.2

Expertise

9

Service and support

8.9

Price/quality
All reviews (

151

)
9.0
Buy
In the past 2 years, 1 clients wrote a review about this agent:
10

Reachability and communication

10

Expertise

8

Negotiation and results

8

Price/quality
All reviews (

5

)
Contact
Visiting and mailing address
Eperweg 1
8181 ET Heerde
Opening hours
Monday

Mon

9:00 - 17:30

Tuesday

Tue

9:00 - 17:30

Wednesday

Wed

9:00 - 17:30

Thursday

Thu

9:00 - 17:30

Friday

Fri

9:00 - 17:30

Saturday

Sat

Closed

Sunday

Sun

Closed
Calling hours
Monday

Mon

9:00 - 17:30

Tuesday

Tue

9:00 - 17:30

Wednesday

Wed

9:00 - 17:30

Thursday

Thu

9:00 - 17:30

Friday

Fri

9:00 - 17:30

Saturday

Sat

Unavailable

Sunday

Sun

Unavailable
Error while loading the page. Please try again.